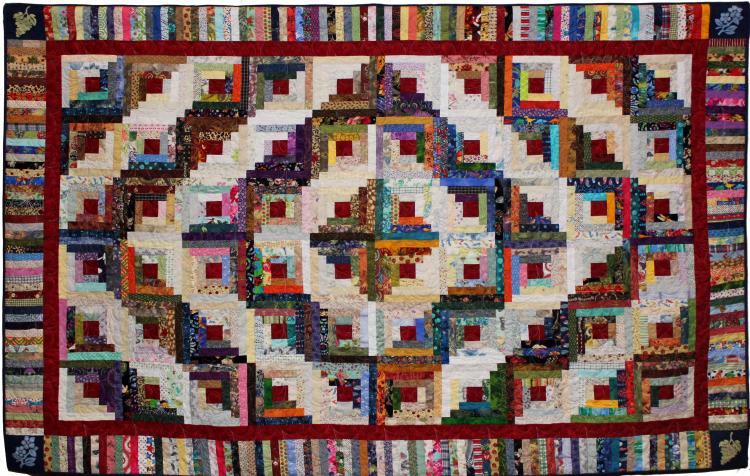 The Story Behind the Quilt
The beautiful quilt located in the Givens Gerber Park Pullium Community Room has a unique story. The quilt tells a story of the beginnings of Givens, the transformation of the Givens organization, and the commitment Givens has to affordable retirement living. The quilt was created by Givens Estates residents from fabric scraps donated by residents and staff. The quilt was presented at the Sending Forth Ceremony which was held in late 2016. This ceremony was to bless the residents who were moving to Givens Gerber Park and honor their contributions to the Givens Estates community. Rev. Ed Hillman, Givens Ministries Director, spoke to those who attended the ceremony and here are some of the words he shared:
What has made Givens the special community that it is? I want to mention three things.
First, Givens started very simply as a gift. Dr. and Mrs. Givens envisioned a retirement community on this property and just about everything we see around us has come as a gift. Gerber Park is a gift: a dream given by God, resources given by many people, time and tears given by staff members to make the dream come true. "Every good and perfect gift is from above, coming down from the Father of lights," said James, the brother of Jesus. The second thing is a dedicated and, very gifted staff! From the top down we are blessed with folks who are caring, highly skilled and dedicated to the mission that is Givens. I cannot tell you how proud I am to work alongside such colleagues: it's humbling and gratifying. But above all that which makes Givens stand out among retirement communities in our state is all of you, our residents. You come from many places, many different walks of life, but you all came here.
Perhaps you were drawn to the beauty of our surroundings, the careful planning and the evident care of buildings and grounds. But more than that, you saw the beauty in each other. In the five years I have been here I have seen such compassion and care for residents toward each other. I have seen wonderful volunteerism on and off campus as you also live out the mission that is Givens. I have seen incredible gifts given to this community, to the staff and gifts to make Gerber Park a reality. Gerber Park itself is a gift to Asheville – a sign of what caring people can do when they dream big! We want to make it the gold standard when people think of affordable retirement living.
That brings me to our honored guests this evening. God said to his servant in Isaiah 49, "I am giving you as a light to the nations," and in that same way all of you will be our lights in our new community of Gerber Park. You will take the light that is Givens and be our missionaries in a new place. Our forty-one residents moving to Gerber Park will be almost a third of the new residents, and we are counting on you to let all of the newcomers see what compassion and care for one another looks like in a Givens community. The light of our Friendship Candle will be a sign for us all. You will not go alone, of course. Susan and Andrew, our Ministries staff and others will be there to support you in this mission. But we want you to let your light shine for all the new residents so that they too will know what a special place they have come to.