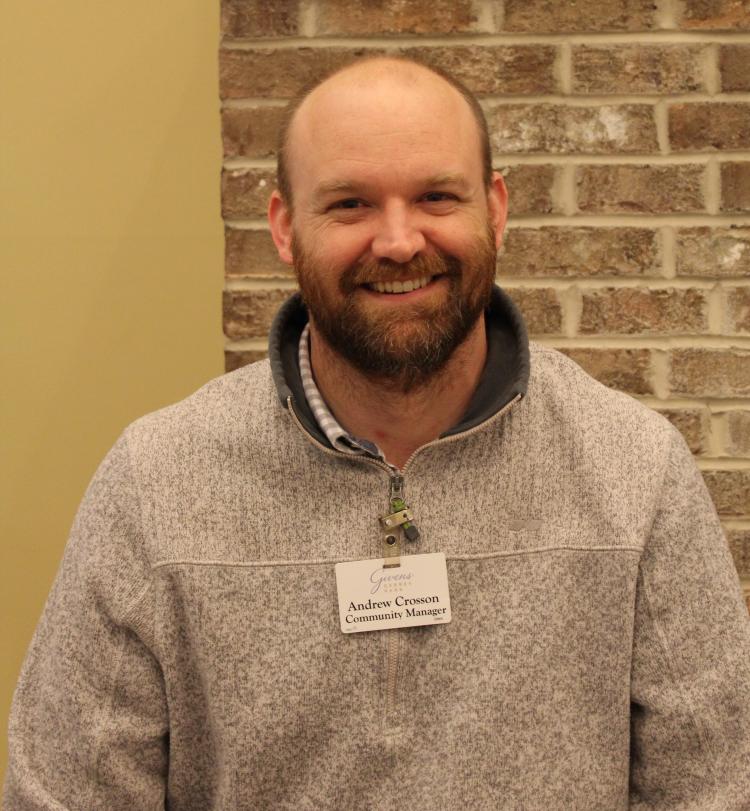 Meet Andrew Crosson, Community Manager
Name: Andrew Crosson
Department: Administration
Position: Community Manager
Number of years employed by Givens Gerber Park: 7 years
What attracted you to working at Givens Gerber Park?
I started with Givens Estates as the HUD Coordinator in 2013 and moved over to Givens Gerber Park when Building 40 opened in 2016. As a social worker by training, I believe in our mission to serve those in need. I have a firm belief in Maslow's Hierarchy of Needs, which states stable housing is one of the basic needs for any human to succeed. Helping people maintain and keep their housing while making sure it is more than just "safe, sanitary, and decent" is motivation for me. Additionally, many North Carolinians will never be able to afford assisted living. Givens Gerber Park is a pioneer community in that we have created a Housing with Supportive Services model. This model's goal is to help support residents to stay in their apartment home as long as possible before moving to a higher level of care.
What are a few of your primary responsibilities?
My primary responsibilities are working closely with our Supportive Services, Café, Leasing, and Maintenance teams to make sure we are meeting and exceeding our goals to make Givens Gerber Park a community where seniors can thrive. I am tasked with making decisions and finding solutions. My day to day duties include community relations, accounting, maintaining the property, and reporting.
How is your job rewarding?
I pursued and earned a Master of Social Work degree because I wanted to help people and this job offers me the opportunity to help every day. I never considered that property management would be my career, however it has proven to be more than I dreamt. My job is rewarding because I know we are serving people (residents, families, community partners, other senior communities) who have a need and that our services are valued in the Asheville community and beyond. This job is challenging but rewarding in that it allows for creativity in thought and action.
What is a fun fact about you?
Why limit it to just one fun fact? I am originally from San Antonio, Texas, and moved to Audubon, New Jersey when I was 8. I moved again the summer before my senior year of high school to Aurora, Colorado. I decided to stay in Colorado for college. I graduated with majors in Central and East European Studies as well as Russian Studies, with a minor in History at the University of Colorado at Boulder. I took six semesters of Russian language and even studied in the St. Petersburg Russia in the Summer of 2001. I returned to the US shortly before 9/11. I met my (future) wife on 9/13. I wouldn't believe in "love at first sight" or "soul mates" if I hadn't experienced it personally with her.
How do you and your team try to make a difference for residents?
Social Work taught me about taking a person centered approach and viewing situations through a compassionate lens. Our staff will walk with a residents and families through challenges rather than enable them. Every day we are presented with opportunities to build positive relationships and we seek those opportunities out. We challenge ourselves to work with a mindset to say 'yes' rather than 'no' and find viable solutions that are win-win as much as possible.